Moving Made Easy – Think outside the Box
Moving home can be an exciting adventure, but when it's time to pack, you may find yourself clueless as to where to begin.
At Interstate Relocations, we've put together some general and green inspired moving tips to help you through the big day with ease, so you can start enjoying your new home.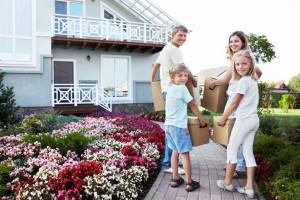 Basic Moving Tips:
Create a' change of address' list of all the parties you need to notify (utilities, family, post office)
Make a 'Move Me First Box' with your basic supplies needed for your first night (power cords, phone chargers, toilet paper)
Make unpacking easy by labelling and color-coding your boxes by room
Place all screws, nuts and bolts in small zip lock bags with any special tools such as allen keys and label clearly to make reassembly a breeze.
Tape closed or place cling wrap under lids on all bottles of liquid
Think Outside the Box:
Roll up your clothes instead of folding to save room
Put a cotton pad in your makeup compacts so they don't break
Cut down on cardboard boxes by loading up laundry baskets, suitcases and bags
Utilize every blanket, towel and sheet when packing breakables
Electronics:
Take a photo of how your electronics are connected so you can remember where the wires go
Keep wires organised by wrapping a rubber band around them and labelling
Remove all bulbs before packing your lamps
Helpful Smartphone Apps for Moving Day:
MagicPlan allows you to use pictures of your house to create a virtual floor plan that you can use to see if your furniture will fit in a particular position in your new house
Evernote allows you to make lists, jot down quick notes so that you don't forget anything on the day of your move
Moving Van allows you to identify the contents of every box you pack, using house movers, relocating or putting items into storage.
At Interstate Relocations, we know moving can be time consuming and stressful, which is why our professional staff of coordinators, drivers and packers work around the clock to make your experience as easy and stress free as possible.
We are here to provide you with safe, easy, and reliable moving services throughout Australia – Contact us on 1300 733 605 today for a competitive quote.